The Education System in Vietnam - Hệ thống Giáo dục tại Việt Nam
by Christopher Runckel, President of Runckel & Associates (www.Business-in-Asia.com)
Education and the system of higher learning and technical schools is very important to business as it provides the trained workers and also a system to transfer skills and train new employees needed in a modern business society.
In Vietnam, the economy in recent years has had a remarkable performance. GDP growth increased 8.5% in 2006, 8.2% in 2007 and 8.5% in 2009. In 2009, according to the Asia Development Bank (ADB) in their latest late September, 2009 revision the bank predicted that growth would be 4.7% for all 2009. Growth in 2010 is projected at 6.5 percent according to the same source. Future growth is highly dependent on a high quality workforce who are better skilled and trained in modern education and with better quality language skills.
Education has always had a central role in Vietnam culture and society. It is seen as the avenue of advancement and families routinely sacrifice much to ensure their offspring get the required education. The government of Vietnam has for some time set the priority of education in terms of its budget. Currently, education occupies approximately 20% of all state budget expenditures and accounts for 5.5% of GDP (source: Department of Finance and Planning, MOET, 2008). Below is a chart that shows the current education system in Vietnam:
The education system in Vietnam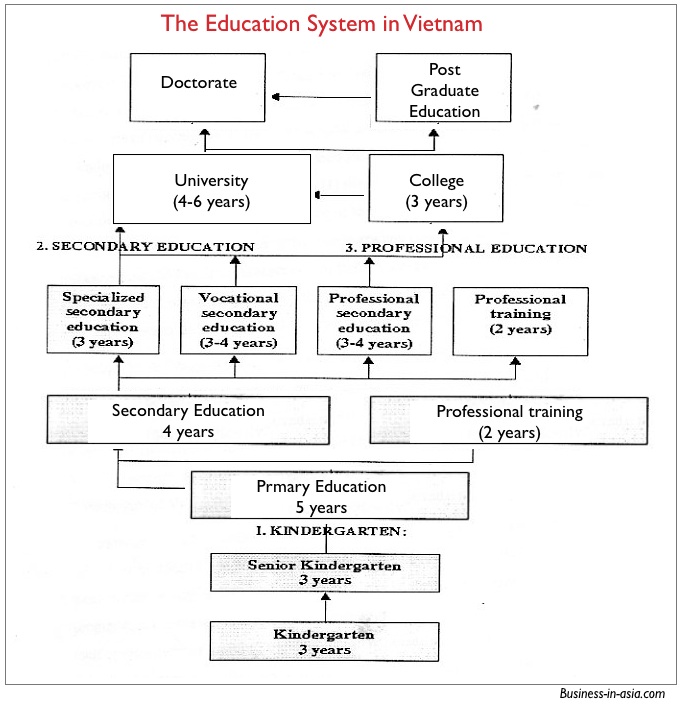 Flowchart of educational system in Vietnam
With a country with over 86 million people and with more than 60% under the age of 35 (Source: General Department of Statistics of Vietnam, 2009), Vietnam's education needs for this young population are huge. Despite attention by the government only about 1.6 million (about 2%) actually are now at higher education institutions. Each year approximately 1.2 million students graduate from secondary education but the enrollment to higher education is only around 300 thousand (Source: Department of Higher Education, MOET).
Since the combination of the Ministry of Education and the Ministry of Higher Education into the Ministry of Education and Training (MOET) in 1990, MOET has had responsibility for all education and training at the national level. Under Vietnamese government decree 322008-ND-CP, MOET is divided into 19 separate departments and several related units, of which the most important are the following - units responsible for primary and secondary education, higher education, teacher education, adult education and the finance and planning department. MOET's responsibilities include every level of education including pre-school, general education, professional education, tertiary education and continuing education. MOET's responsibilities include:
Setting of policy and promulgation of regulations affecting curriculum
the research, writing and publishing of text books
enrollment and student management
academic assessment procedures and quality assurance
infrastructure and facility maintenance
staffing and personnel selection for educators
development of future education plans
suggesting and initially drafting proposed legislation for submission to the government for regulations of education matters such as establishment and construction of universities, policies on study abroad and building of an educated elite, scholarship, etc.
Although MOET plays in many ways the lead role in education in Vietnam, there are several higher education institutions in Vietnam that are under other line ministries or government agencies. Examples of this are the Hanoi Medical College that falls under the Ministry of Health and the Water Resource University under the Ministry of Agriculture and Rural Development. Also, a further example of this is the two National Universities who though nominally under MOET operate independently as separate entities and report directly to the Office of the Government of Vietnam.
Although MOET has the primary role in education, there is some change occurring. Decree 85/2003 and Decree No. 166/2004/ND-CP allow local education authorities more power and responsibility to initiate long-term local education programs in their respective areas. Further, Universities are increasingly obtaining autonomy over financing(self management of funding), training, research, human-resources, and international cooperation. Resolution No. 14/2005, dated November 2, 2005 and the Government's Higher Education Reform Agenda 2006-2020 have acted to require university and college managing boards to prepare their own spending plans and to implement them under oversight from MOET. Much discussion is occurring about how these new policies and others might facilitate better quality research and teaching while also providing a legal framework of responsibility and with increased accountability.
The Education Law
The Education Law of 2005 sets forth more explicitly the requirements for the Vietnamese higher education system. This law defined higher education as what one receives at the college or university level. It further set the degrees available and the structure for pursuing them. Under the system described in the law, a person with a high school diploma may pursue either a 4-6 year academic program for a bachelor's degree or alternatively a 3-year academic program at a junior college. A junior college degree holder may then continue for an additional 1-2 years to secure a bachelor's degree. A student with a bachelor's degree may pursue and additional two years to qualify for a master's degree and 3-4 years more to obtain a doctorate.
The law further sets-out which institutions may grant what degrees. Junior colleges are responsible for 3-year training programs but Universities also have some responsibilities in this area. Universities may also offer 4-6 year training programs and with permission of the Prime Minister, master's and doctoral degrees. Research institutes are primarily responsible for doctoral degrees but also with the permission of the Prime Minister can provide Master's Degrees in cooperation with Universities. Doctorate degrees in Vietnam are more comparable in Math and Science disciplines to those in Europe and with less training than those of major U.S. institutions.
Educational Institutions in Vietnam

x
Universities in Vietnam, Higher Education Institutes
Basically there are two broad grouping of educational institutions in Vietnam; the traditional mono-disciplinary or specialized institution and the multi-disciplinary university. The first group was the more common in Vietnam under the pre-Doi Moi (renovation) policy. It focusses on a single area or subject of focus, for example law, fine arts, engineering, economics, etc. In the last several years many of these former single focus institutions have taken on a multi-disciplinary focus. For example, Hanoi University of Foreign Studies was focussed most on foreign language training now has a broader focus on business and other standard University subjects. Multi-disciplinary universities are on the increase and there are currently 2 national universities, 3 regional universities and 14 pilot universities with more being added all the time. Additionally, MOET has been authorized to allow the private sector to set-up colleges and universities and companies such as FPT in Hanoi and Becamex with their Mien Dong or Eastern International University in Binh Duong province are already doing this. Vietnam already has a foreign university in the RMIT International University which opened in 2001 and now has over 3,000 students and a German University is soon to open outside Ho Chi Minh City in the South as well. Additionally there are over 200 joint-degree or co-operation programs between Vietnam Universities and foreign institutions.
The Higher Education Reform Agenda 2006-2020 has built on a changing education environment which has seen a growth in the number of public, semi-public and private higher education institutions. Between 1999 and 2007, the total number of higher education enrollments increased by 72.5% (from 893 to 1,540,000). The number of higher education institutions also grew markedly - from 153 in 2000 to 369 in 2008 and an even higher number today. According to MOET, in 2008 there were more than 40 non-public universities, accounting for 25% of the total number of universities and training 188,838 students or 11.7% of the total number of students.
List of large higher education institutions in Vietnam
What Does Going to University in Vietnam Cost
According to the September 21, 2009 issue of the Vietnam News most public universities have announced fees of VND 240,000 (US$14) per month or VND 2.4 million for the 10-month academic year. Others charge more, some charging VND 3.52 million a year. The HCMC City University of Industry charges VND 110,000 per credit and its curriculum requires each student to enroll for at least 32 credits a year, which is VND 3,530,000 per year according to Tuoi Tre (Youth) newspaper. Can Tho University in the Mekong Delta requires at least 34 credits a year at VND 80,000 each. Many Universities are above the government announced rates according to the same article with the HCM City Open University being VND 4 million per year, the HCMC Finance-Marketing University is over VND 5.5 million and the Ton Duc Thang University is over 5-6 million. At the HCM City Private University of Technique and Technology, the tuition fees are now VND 9.3 million. Although these are low in international terms, they are increasing considerable in local currency terms.
For most Vietnamese students, University study at either the Bachelors, Master's or PhD level in the U.S. is the ultimate goal. Till now, U.S. Universities have not focussed sufficiently on attracting the many students interested. This is changing and in a University Education fair organized by IIE in Vietnam in late September there were over 86 booths promoting mainly overseas education.
Continuing Issues - Faculty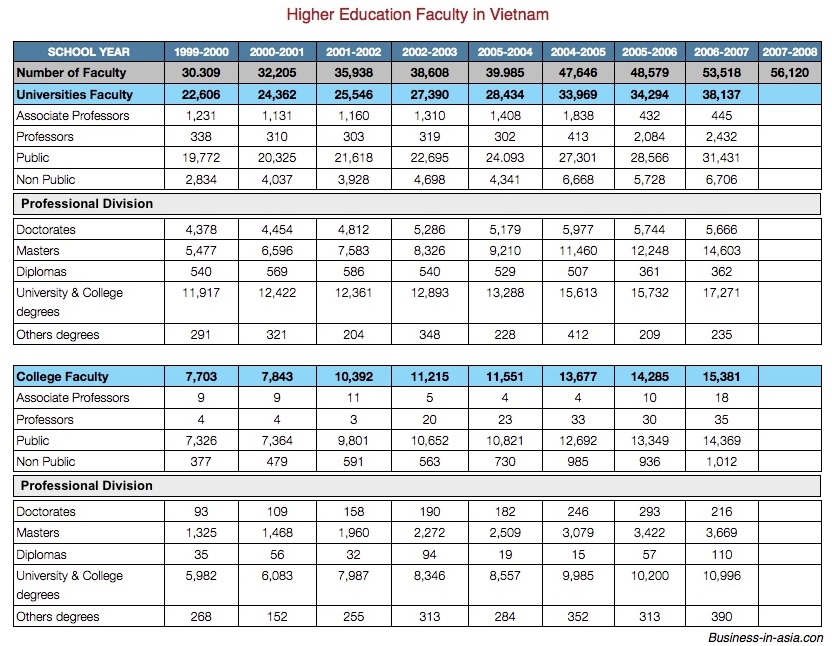 university faculty in Vietnam, Higher education faculty in Vietnam
Developing faculty has been a big challenge for higher education in Vietnam - both in terms of quality and also quantity. The ratio of lecturers/students is around 1/30 which is relatively high. The number of PhD holders at higher education institutions is still low. In some new universities there only one or two PhDs. MOET has announced a plan to train 20,000 PhDs of which 10,000 will be trained overseas by 2020. There also is a plan to attract Vietnamese overseas professors and researchers to return to teach but so far the reality on this has been very disappointing with the government still being very reluctant to make adequate use of this overseas resource.
Testing, recruiting and enrolling students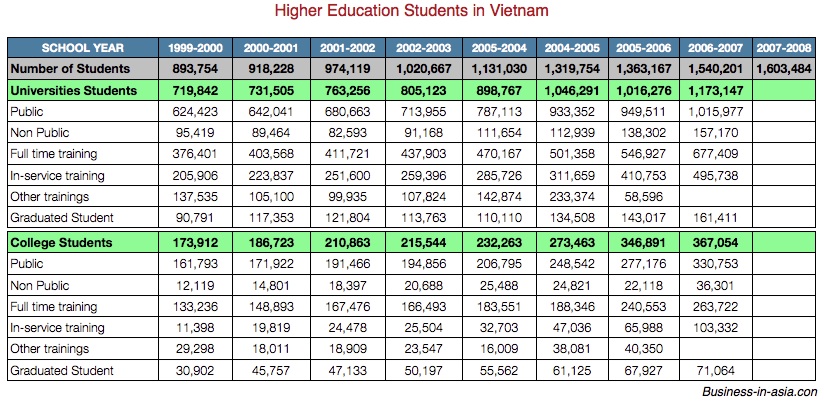 Vietnam university students, recruiting and emrollment
Vietnam has a two step process of qualifying for University. First, students must first take and pass the Secondary School Leaving Examination (SSLE). This exam consists of a comprehensive achievement test in six subjects (math, literature, a foreign language, and three alternating subjects) each with a maximum value of ten points. In order to graduate, a student at least needs to achieve a score of 30 points. A score below this will disqualify a student from sitting for University entrance Examination. The next step is the University Entrance Examination (UEE) which usually requires that a student take an exam of 3 of 4 fixed groups of subjects. MOET has proposed a plan to merge the SSLE and the UEE in 2-3 years from 2009.
Credit System
A credit system is now in place at a number of Vietnamese Universities to replace the older subject based system. In the new credit system, each course is assigned a credit amount. Each credit represents one hour of theoretical lectures plus one hour of preparation per week over a 14-16 week semester. A four year program will normally require a total of 210 credits. Five-year programs require 270 credits and six-year programs require 320 credits.
Grading System
Vietnam follows a 10-point grading system. The normal passing level is a 5. The following is MOET's published definition of grades but at the tertiary level there is substantial variation. Here is the definition:
9-10 - Excellent
8-9 - Very Good
7-8 Good - about 35% of the students are at this level
5-6 - average - about 50% of students at this level
4 or below - Fail
Overseas study in Vietnam
Overseas education has become increasingly popular in recent years as it is viewed as offering the student likelihood of better future employment. Overseas study can be either by scholarship or through personal finances.
The overseas-study consulting market in Vietnam is highly competitive. Hundreds of education consulting centers and non-profit organizations are operating in the big cities. Moreover, the internet also gives students the ability to find the scholarships and the school and the opportunities to go oversea to study by themselves. In addition, the oversea-study exhibitions organized by the educational institutions have provided opportunities to the student and introduced the student to ways to assess the U.S educational institutes by themselves. This has also increased price competition in the market.
Over 60,000 students in Vietnam are now studying overseas according to the Foreign Press Center and based on statistics from MOET. According to statistics of the International Education Institution (IIE), the number of Vietnamese students studying in the U.S reached the 13th ranking in 2008. Even though most students would prefer going to the U.S. rather than other countries, the rank showed here is relatively low due to perceived difficulty by many young people in getting a visa from the U.S. Embassy and Consulate. I would note the word "perceived" in the above sentence. In actual fact, most U.S. Consular officers make the point that they will approve any student who applies who has a realistic and well thought out plan for their education. The U.S. Consul General in Ho Chi Minh City has also made this point repeatedly in speeches and in talks with students and the sentiment is in my opinion real. The problem in Vietnam is primarily one that students often work with education counselors that have insufficient knowledge of Universitities and their programs. They are insufficiently informed and professional and often do not represent their students adequately. Therefore many people apply for Universities or Colleges that do not really have the programs that the student is seeking or the student can't adequately explain the education needs and their plan in a logical and reasonable way to the Consular officer. Another major problem is that students and parents are often only focussed on U.S. Universities close to known locations in the U.S. or elsewhere with overseas Vietnamese populations like California and thereby miss many better opportunities in colleges and Universities in other locations like Philadelphia, the Northeast U.S. or elsewhere. The numbers of the students going overseas have also increased rapidly in the past years, particularly the number of Vietnamese students in the U.S: 8,769 in 2008; 6,036 in 2007; 4,597 in 2006 and 3,670 in 2005. (Source : Tran Thang (IVCE) - Thanhnien newspaper, 3 March 2009). Therefore, this market segment still has potential opportunities for growth in services.
There are an increasing number of types of scholarship available to study overseas. Each year there are approximately 25 U.S. Government Fulbright Fellowships and around 40-50 U.S. Government Vietnam Education Foundation (VEF) Fellowships available for masters degree students only. Additionally there are approximately 10 Canadian government scholarships, 70 scholarships to study in the UK, 200 scholarships for study in France, 150 for study in Australia, 70 short-term and 10 long-term scholarships in Thailand. A large number of additional students receive scholarships directly from universities, nongovernmental organizations, foundations and other bodies. The Vietnamese Government through MOET also has a program to approve approximately 400 scholarships for state workers to study abroad to improve their skills. In 2009, the Vietnam International Education Development (VIED - replaced the Management Committee of Project 322) will on behalf of Ministry of Education and Training (MOET) select and award many scholarships for studies overseas. These scholarships comprise the following:
500 scholarships for full time doctoral study overseas,
200 scholarships for full time masters study overseas,
30 scholarships for short term training courses overseas,
100 scholarships for doctoral and master study at joint programs,
About 150 scholarships for undergraduate study overseas.
Another estimated 20,000 students are studying abroad each year on institutional scholarships or on their own finances. These figures are further growing yearly as the government implements its so-called 10,000 PhD program with a goal of creating 20,000 new PhDs by 2020 through training abroad.
Continuing Problem Areas
Based on data from MOET in 2007, access to higher education is still low and only about 2% of the population moves into higher education study. This figure is low in both a regional and an international context.
Ratio of students to faculty is low at 1/30.
Quality of faculty is not as high as needed an only 14% of faculty have a doctoral degree and 33% have a masters degree.
Quality assurance in education remains weak
Enrollment is concentrated in a few academic disciplines. Nearly 50% of all students major in economics/business.
Future Goals
The "Socio-economic Development Plan 2006-2010" and the "Resolution on Comprehensive and Fundamental Reform of Higher Education in Vietnam 2006-2020 (No. 14/2005) have set the following targets for higher education in Vietnam:
Increasing enrollment in universities and colleges by 10 percent annually, to reach a level of 200 students for 10,000 population by 2010 and 450 students per 10,000 populations by 2020
revenue from science and technology activities increased to 15 percent of total university revenue by 2010, and to 25 percent by 2020;
proportion of university teaching staff with masters level degrees increased to 40 percent by 2010, and to 60 percent by 2020;
proportion of university teaching staff with doctoral level degrees increased to 25 percent by 2010, and to 35 percent by 2020;
ratio of university students to teaching staff reduct to 20:1 by 2020
encouraging the establishment of private institutions, including high-quality, accredited and 100 percent foreign-invested institutions in science, technology, and economic management; encouraging foreign scientific and educational experts and Vietnamese expatriates to teach in Vietnam.
As can be seen from the above, the government has set some substantial goals. Now the challenge will be in finding the money and in getting continual supportive and consistent policies over time to achieve the goals set out.
About the Author:
Christopher W. Runckel, a former senior US diplomat who served in many counties in Asia, is a graduate of the University of Oregon and Lewis and Clark Law School. He served as Deputy General Counsel of President Gerald Ford's Presidential Clemency Board. Mr. Runckel is the principal and founder of Runckel & Associates, a Portland, Oregon based consulting company that assists businesses expand business opportunities in Asia. (www.business-in-asia.com)
Until April of 1999, Mr. Runckel was Minister-Counselor of the US Embassy in Beijing, China. Mr. Runckel lived and worked in Thailand for over six years. He was the first permanently assigned U.S. diplomat to return to Vietnam after the Vietnam War. In 1997, he was awarded the U.S. Department of States highest award for service, the Distinguished Honor Award, for his contribution to improving U.S.-Vietnam relations.
http://www.business-in-asia.com/vietnam/education_system_in_vietnam.html